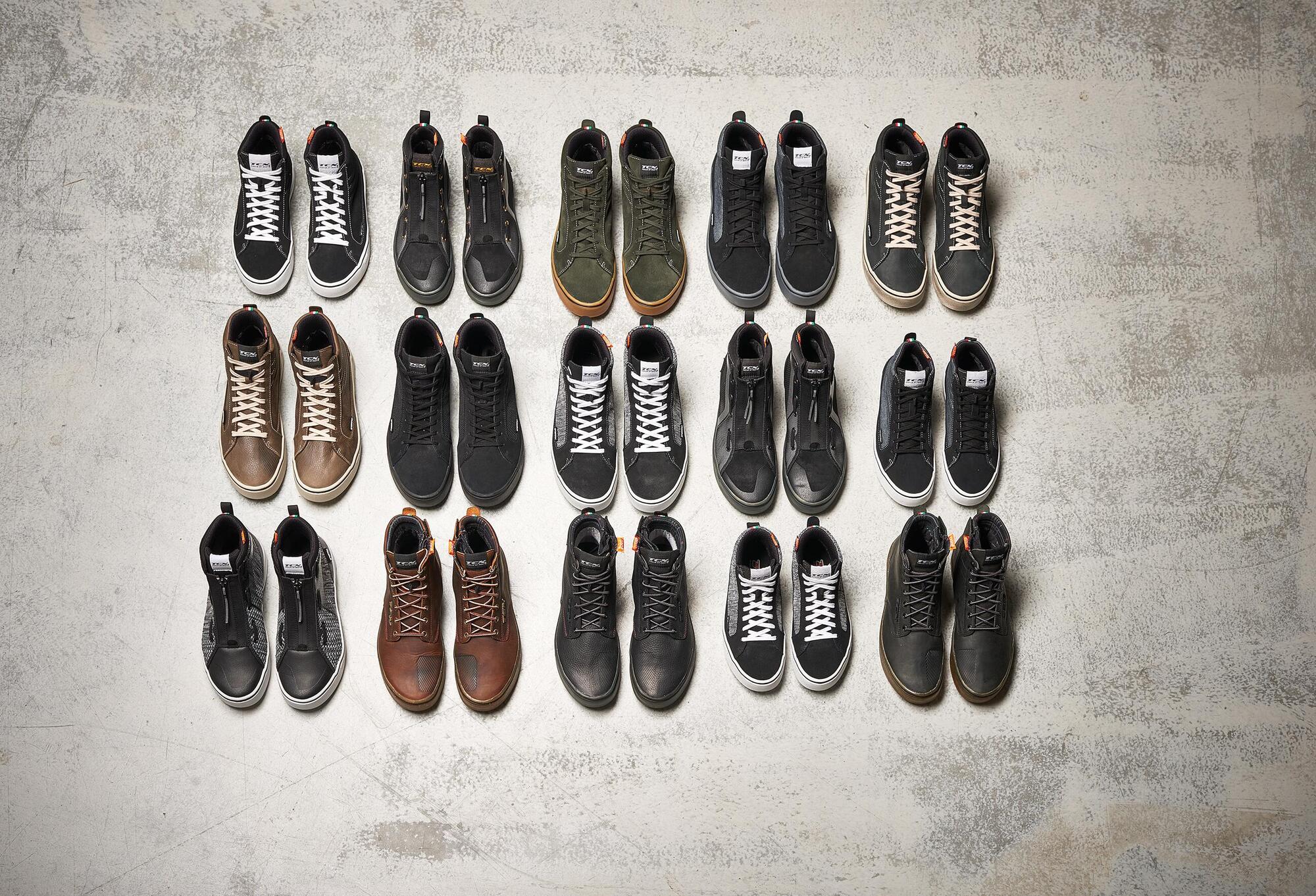 Started in 2020, the revolution signed by TCX® finds its fulfillment in the 2021 new products. A collection that is a clear declaration of intent: to draw a line betweet what we know and the design of something unexpected and absolutely distinctive. A new generation of footwear that takes inspiration from the most urban trends, appropriates them, reinterprets them and adapts them to satisfy riders from all over the world.
"Focus on boots", which has always identified TCX®'s mission, becomes an approach that contemplates multiple points of view and answers the demands of modern consumers, from GenX to Millennials to GenZ. A change of perspective, and of pace, which takes shape in a new visual language. The avant-garde design reigns supreme, declined on the basis of tastes, passions, values, heritage and needs that are in constant change.
A search for style that permeates above all the 24/7 and Vintage lines. Their new models become a must-have to wear every day to accompany every movement on two wheels with style and comfort.
This is the case of the new IKASU, which in Japanese means "cool", and STREET 3, which reflect the most current urban trends by contemplating constructions, colors and materials that wink at the athleisure and outdoor environments. The DARTWOOD model, on the other hand, adds a touch of "British gentleman" style to the Vintage line.
All the new models introduced with the 2021 collection feature important technical innovations, inserted into the shoes in an even more natural and discreet way. The perfect combination of aesthetics, comfort and function guarantees excellent performance.
The first of these innovations is represented by the ZPLATE insert, designed to maintain ideal longitudinal flexibility both while driving and walking, it also guarantees the correct transverse rigidity to protect the foot in the event of a fall.
The new TCX shoes have been fitted with D3O inserts in correspondence of the ankles, to guarantee safety but also flexibility. This is because the raw D3O® molecules move freely, thanks to their non-Newtonian nature, allowing the material to remain soft and flexible. In the event of an impact, D3O® molecules combine to absorb and dissipate energy, considerably reducing the force transmitted to the body compared to standard materials.
The list of technical innovations ends with the hard-wearing rubber Groundtrax® outsole, designed by TCX to achieve maximum stability and grip on asphalt and running boards, and to facilitate the self-cleaning of the sole.
IKASU
Amaze and dictate a new trend in the motorcycle sneakers field: this is the will with which TCX® has developed this model. Of metropolitan conception, with explicit references to the underground and more technological world, IKASU WP immediately strikes for the construction of the upper in reflective mesh and for the innovative and modern design.
| | |
| --- | --- |
| IKASU WP | IKASU AIR |
| Upper in reflective mesh fabric and suede leather | Upper in breathable fabric and suede leather |
| Side reflex inserts | Breathable mesh lining |
| T-Dry waterproof membrane | Front closure with elastic zip |
| Front closure with elastic zip | |
STREET 3
Incredibly pop, absolutely authentic and of unmatched quality, the new STREET 3 are designed for the everyday commuter who lives on two wheels without giving up on style but looking for a comfortable and safe product to wear in all situations.
| | | |
| --- | --- | --- |
| STREET 3 WP | STREET 3 TEX WP | STREET 3 AIR |
| Upper in full grain leather; full grain leather with nubuck finishing; suede leather | Tomaia in pelle scamosciata e tessuto a trama rinforzata | Upper in suede leather and breathable mesh fabric |
| T-Dry waterproof membrane | T-Dry waterproof membrane | Breathable mesh lining |
| Closure with laces | Closure with laces | Closure with laces |
| | | |
DARTWOOD
An unprecedented interpretation of the vintage footwear that abandons the ankle boot construction to embrace the typical lines of high-cut sneakers. A choice that offers a double benefit: greater comfort of fit and maximum lightness.
| | |
| --- | --- |
| DARTWOOD GTX | DARTWOOD WP |
| Full grain leather upper and rear reflex insert | GORE-TEX Extended Comfort Footwear membrane |
| GORE-TEX Extended Comfort Footwear membrane | T-Dry waterproof membrane |
| Closure with laces and side zip | Closure with laces and side zip |
WOMEN'S LINE
TCX was a pioneer in designing a motorcycle boot that perfectly adheres to the female foot, following specific anatomical characteristics. In the 2021 collection, style gains ground, especially for the new models of the 24/7 line, IKASU LADY WP and STREET 3 LADY (WP and AIR).
| | | |
| --- | --- | --- |
| IKASU LADY WP | STREET 3 LADY WP | STREET 3 LADY AIR |
| Upper in reflective mesh fabric and suede leather | Suede leather upper | Upper in suede leather and breathable mesh |
| Side reflex inserts | Membrana impermeabile T-Dry | Membrana in mesh traspirante |
| T-Dry waterproof membrane | T-Dry waterproof membrane | Closure with laces |
| Front closure with elastic zip | Internal wedge | Internal wedge |
| Internal wedge | | |
Ask TCX
Discuss on Discord