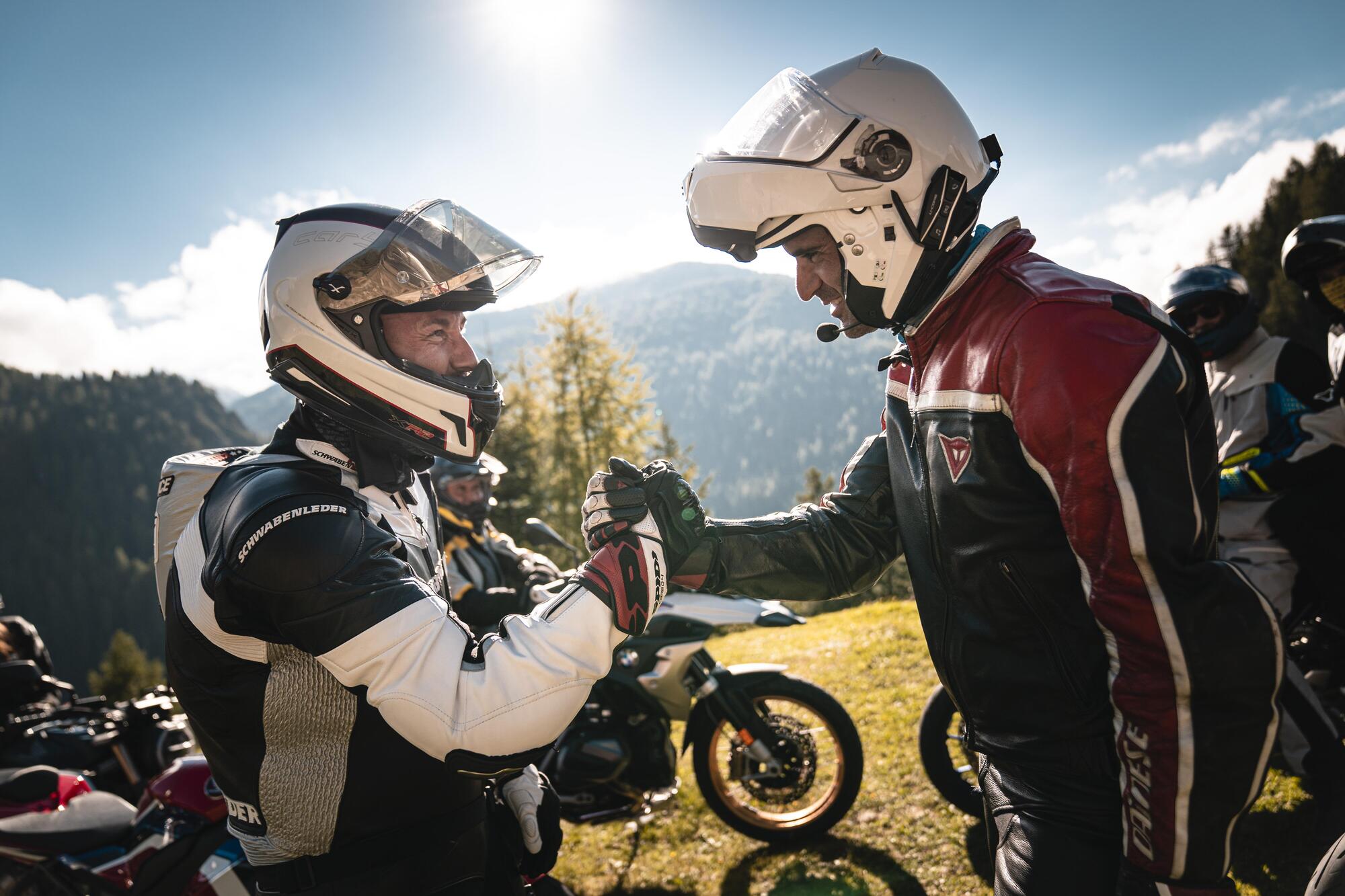 The needs of motorcyclists are always changing and having a stable, reliable and fast connection is essential.
Nobody likes barriers and those who love riding will surely have experienced issues when trying to link communication devices from different brands.
For this reason, Cellularline has announced a partnership with Sena based on the sharing of a single communication protocol, which eliminates the problems of interaction for all Interphone and Sena riders.
A new line of motorcycle intercoms comes to life from this union: Interphone UNITE, 3 new devices: U-com2, U-com4 and U-com16, which exploit the new communication protocol for total compatibility with Sena intercoms, communication systems integrated in the most popular helmets, TFT displays, GPS navigators and, of course, with smartphones.
The technology of the new motorcycle intercoms is absolutely top notch, whether it is a Bluetooth 5.0 or Mesh 2.0, if you choose an Interphone you'll get performance and quality, and a new design.
INTERPHONE UNITE
U-COM16
• Mesh 2.0 technology: the most advanced and reliable connection on the market
• Group communication up to 24 intercoms
• New 40mm HD top sound speakers
• Connection between control units with a simple click
• The smallest mesh intercom on the market
• Extended compatibility with all TFT and GPS systems on the market
• Mesh Bridge, possibility to join another Bluetooth intercom to the mesh conversation
• Native voice commands to manage device functions
•Battery life up to 8 hours in Mesh and 15 in Bluetooth®
•Connection between intercoms up to 1.6km
•New super intuitive multilingual App to maximize device performance
•Suitable for all helmets
•Menu with multilingual voice guide
•The volume adjusts automatically for excellent audio quality.
•Connection to smartphone
•Listening/sharing music, phone calls
•FM / RDS radio
•It can also be used when it rains. IPX 67 waterproof
•The intercom can be updated using a PC or Mac
•Possibility to manage the smartphone also through Apple and Android voice commands
•Conversation between 2 intercoms with background audio of the radio/gps/music functions
•Using the device functions in beginner or expert mode
•Full charge in 1 hour
•Bluetooth 5.0
•It naturally connects to all Sena intercoms and other brands with Anycom
•Immersive sound with deep, penetrating bass and crystal-clear highs
•Available from March, prices including VAT:
Single € 339
Double € 599

• Bluetooth5.0 technology and full integration with Sena devices
• Group communication up to 4 intercoms
• New 32mm oversized HD speakers
• Minimal design with separate battery for excellent
helmet integration
• Conversation between 2 intercoms with background radio/gps/music functions
•New multilingual and extremely intuitive App to maximize device performance
• Suitable for all helmets
•Voice guided menu
•The volume adjusts automatically for excellent audio quality
•Connection to smartphones
•Listening and sharing music between devices
•FM/RDS radio
•It can also be used when it rains. IPX 67 waterproof
•The intercom can be updated using the PC or Mac
•Warm and captivating stereo sound
•Ability to manage the smartphone via Apple and Android voice commands
Available from March, prices including VAT:
Single € 229
Double € 399

• Bluetooth5.0 technology and full integration with Sena devices
• Group communication up to 4 intercoms
• New 32mm oversized HD speakers
• Minimal design with separate battery for excellent helmet integration
• Conversation between 2 intercoms with background radio/gps/music functions
• Up to 12 hours of battery with Bluetooth®

• Up to 600mt of reception from another device
•New multilingual and extremely intuitive App to maximize device performance
• Suitable for all helmets
•Voice guided menu
•The volume adjusts automatically for excellent audio quality
•Connection to smartphones
•Listening and sharing music between devices
•FM / RDS radio
•It can also be used when it rains. IPX 67 waterproof
•The intercom can be updated using the PC or Mac
•Warm and captivating stereo sound
•Ability to manage the smartphone via Apple and Android voice commands
Available from March, prices including VAT:

Single 169 €
Double 289 €
Chiedilo a Cellularline
Discuss on Discord