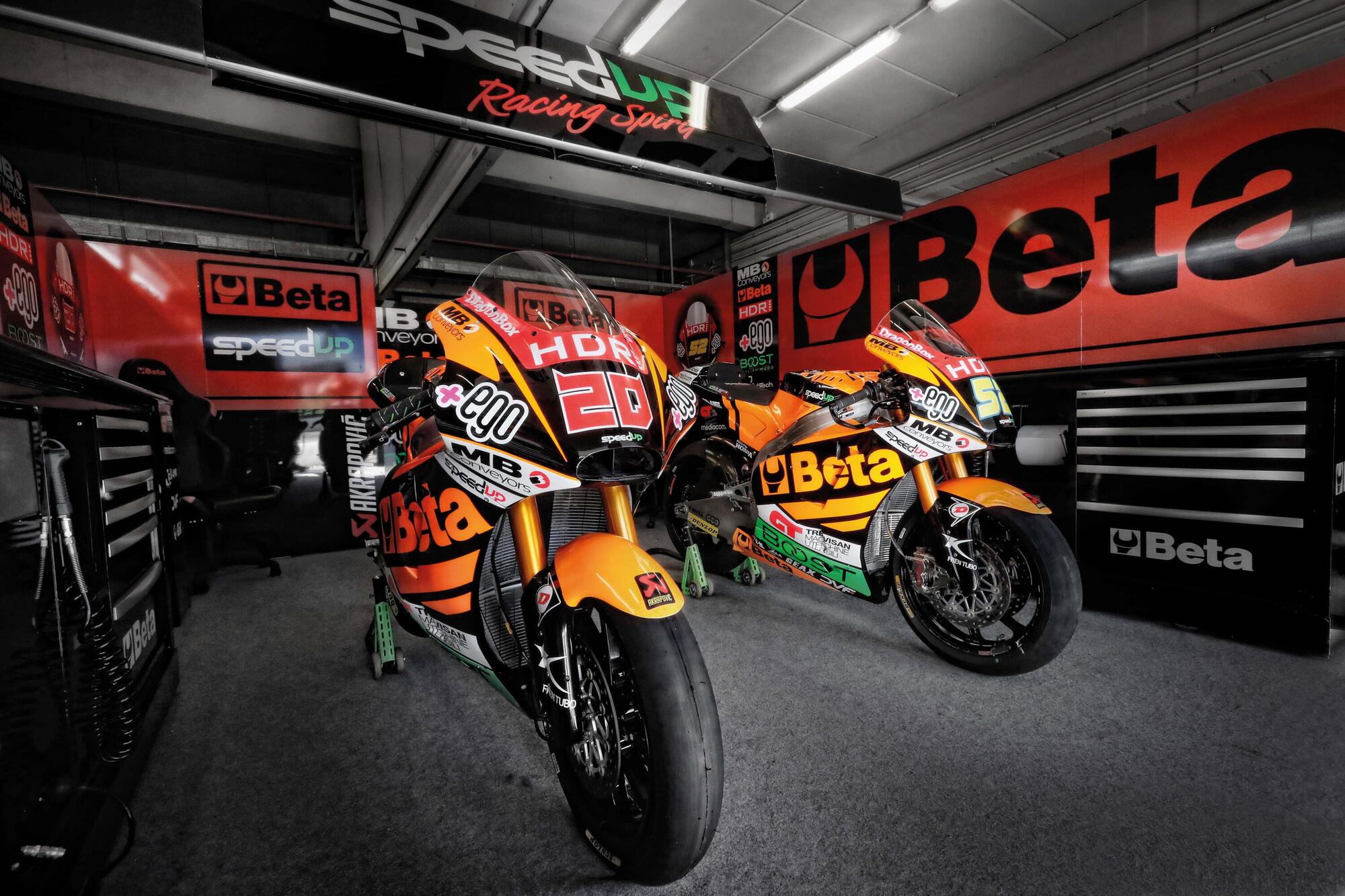 Founded as a forge in 1923, Beta Utensili is specialized in the production of tools for professional use since 1939, the year the brand was registered.
Beta tools and work tools are created to meet the demands of specialists from different sectors but they are enjoyed as well by all those people for whom a hobby is much more than just a passion.
The products are designed and manufactured using the most advanced technologies to be durable and safe and to ensure high quality performance over time.
Beta's offer includes a range dedicated to motorcycle repairs: emergency starter, battery charger, stands, wheel balancer, ramp for loading/unloading, chain cutter, lifter and other specific items.
The quality of the products is highly appreciated by the technicians of the best teams in the MotoGP, World Superbike, World Motocross and Enduro teams, who every season choose the workshop furniture and Beta tools to set up their boxes and guarantee technical assistance to their riders.
WORKSHOP EQUIPMENT RSC55
Beta RSC55 modular workshop furniture offers the possibility of creating a modern work environment, modeled on the spaces and needs of the user.
The wide range of Made in Italy solutions with refined finishes includes: furniture combinations; cabinets, workbenches, under-counter modules and tool-holder walls; accessories, assortments of tools adaptable to the walls.
The workshop, which is the ideal for professionals and motorcycle enthusiasts, can be configured online with the 3D Planner.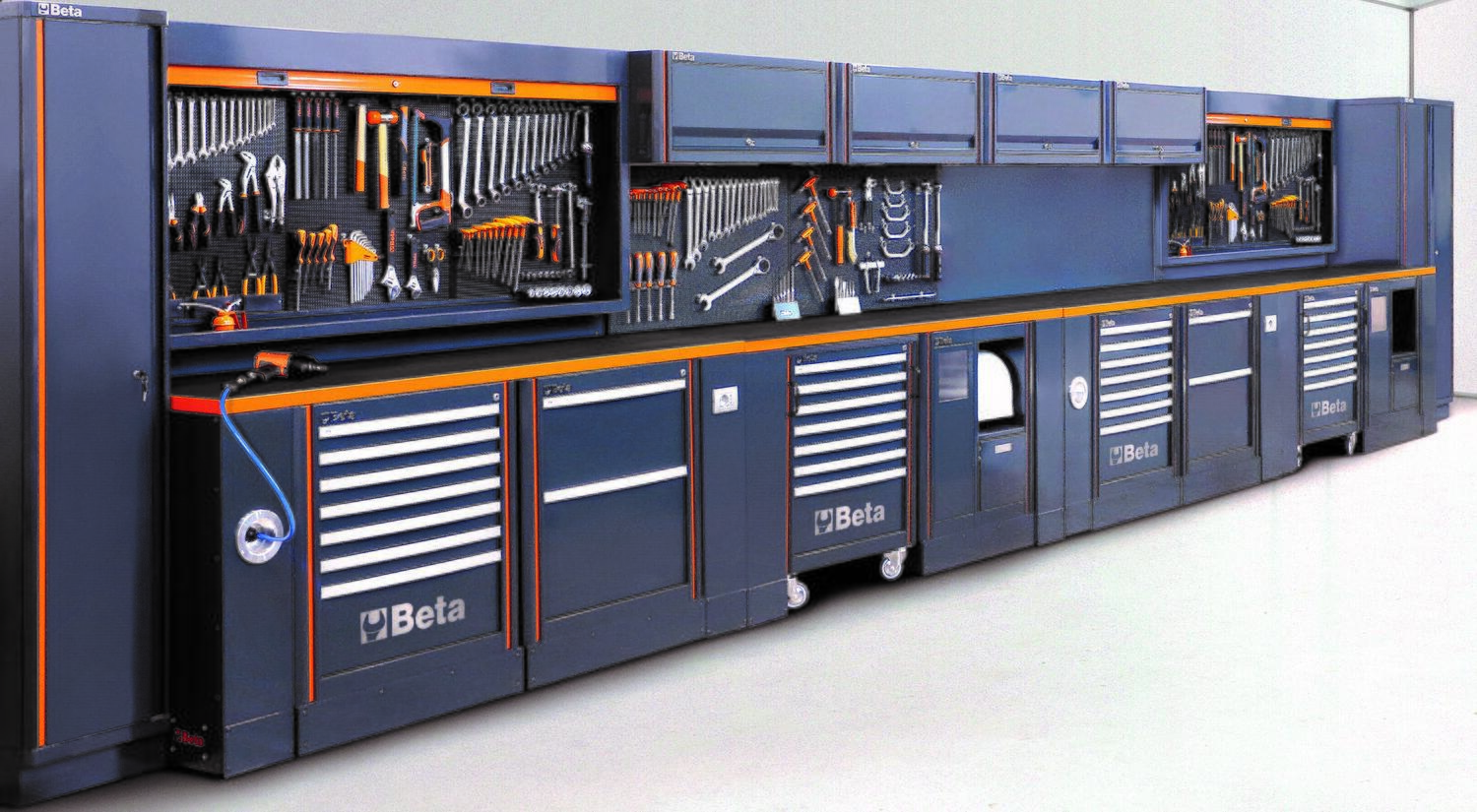 3070BE/K Electronic Hand Spin Wheel Balancer Portable
The 3070BE/K balancing system with hand-spin microprocessor is meant for balancing iron or alloy car and motorcycle wheels. The software includes all unbalance correction programmes, reading of positions with adhesive weights (ALUS), weights hidden behind spokes (SPLIT) and unbalance optimization
The electronic hand spin is compact and easy to carry, it can be mounted to a workbench or a wall, or it can be carried for use in garages, trucks or track pits.

The lectronic hand spin is sold with a flexible graduated ruler, ring nut with handwheel and 3 cones Ø 45 ÷ 110 mm, while the kit of 8 sockets for truing motorcycle wheels 3070BE, the ​universal motorcycle flange, Ø 40 mm 3070BE and swivel support BETA 3070BE/S are optional.
Electro-hydraulic motorcycle jack, 600 kg 3050/600
The lectro-hydraulic motorcycle jack Beta 3050/600, 600 kg , CE certified and TÜV-approved, is available in three colors: orange (3050 / O), gray (3050 / G) and red (3050 / R). The jack is equipped with wheel stop, gate, ramp and side tool trays and an integrated electro-hydraulic unit (230V - 50 Hz), hydraulic pump, control push button panel with a 3 m cable with controlled downward speed, safety fuses for protection in case of cable cuts and electrical, mechanical and hydraulic safety devices.
The range of accessories for the lift includes the 3050/KA widening kit, the 3050/MS wheel clamp and the 3050/LA non-slip metal sheet. Particularly useful to be used under the lift is the 9562T3 garage mat (300x160 cm) with Beta logo and easy to clean, anti-skid, rubber-coated bottom and ideal for protecting the ground from oil and petrol leaks.
Interviews with Suzuki and Yamaha MotoGP teams.
Ask Beta Utensili
Discuss on Discord