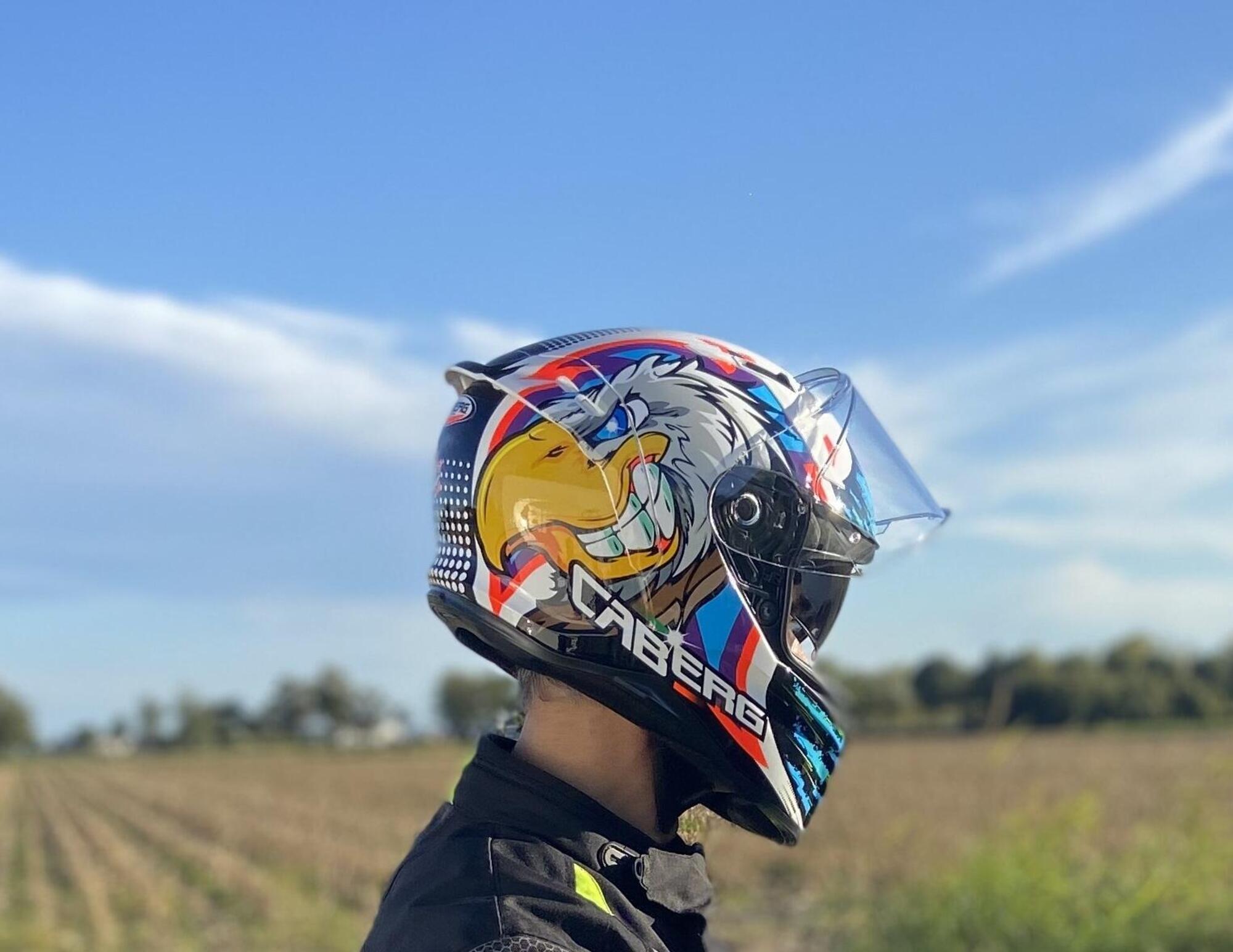 The AVALON is equipped with an anti-scratch clear visor predisposed for the insertion of the anti-fog lens, and an integrated sunshade visor DVT (Double Visor Tech) easily maneuverable with a lateral lever. Both visors can be easily removed without the use of tools.
The many adjustable air vents on top ensure the incoming of fresh air while the rear air extractors and the spoiler favour the air recycling by discharging hot and stale air. The lining, entirely removable and washable is made with hypoallergenic and breathable fabrics. The chin strap is equipped with a micrometric buckle for easy regulation. The AVALON is equipped also with removable nose shield and wind-stop.
Thanks to the inner space set for the microphone and speakers, the AVALON, is ready to be equipped with the Caberg JUST SPEAK EVO Bluetooth communication system as well with the main BT systems already on the market.
Besides the solid-color versions Matt black and White, the AVALON is available also in 3 graphics versions in different colors combinations: the HAWK and the GIGA are more eye-catching with a sporty look, while the BLAST is more classic and elegant. AVALON is a helmet suitable for any trip, both short and more demanding ones.
AVALON will be available from late March 2021 with a suggested retail price starting from 149.99 €.

DISCOVER THE CABERG 2021 RANGE BY VISITING https://www.caberg.it/
Jet helmet FLYON is a touring with double shell size made of fiberglass and also available in the full Carbon version.
Its main feature is a wide outer visor, equipped with a lock system to prevent sudden opening, an anti-fog Pinlock lens, an integrated sunshade visor easy to move, an extraordinary ventilation granted by two vents on the top and an air extractor on the back, and the possibility to mount our JUST SPEAK EVO Bluetooth communication system. All these great features make the FLYON a contemporary helmet able to satisfy the most demanding touring bikers.
FLYON is available in the solid colors Matt Black, White, and Matt Blue Yama, in the graphic design BAKARI in three different color combinations and in the new graphic design RIO in two different color combinations.
The high quality of the materials used and the main features of this open face allow to enjoy longer itineraries with medium and high-powered motorcycles without regretting the characteristics of a full face or a flip-up.
FLYON is available in two shell sizes in order to offer the best fitting proportion between the shell volume and the motorcyclist's head and the inner lining is made with high transpiring and hypoallergenic fabrics.
FLYON is already available at Caberg stores, except for the RIO graphic version, available from mid-December. The suggested retail price is starting from 239.99 €.
Ask Caberg
Discuss on Discord