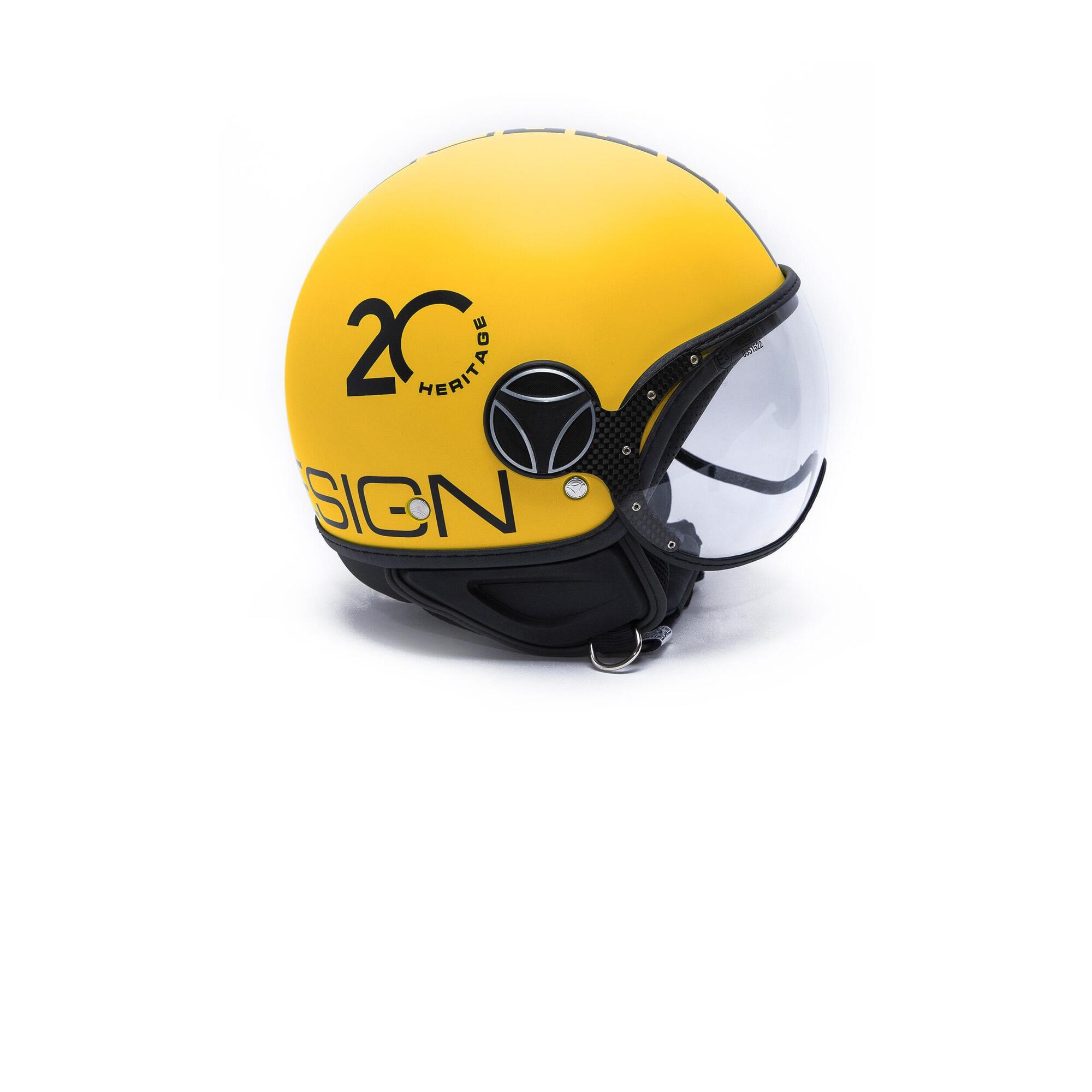 It was back in 2000 when MOMODESIGN designed the FGTR, its first demi-jet helmet, destined to become the most coveted urban helmet, an icon of the time. 20 years have passed since that moment and to commemorate this important anniversary, Momodesign has created FGTR HERITAGE, the new capsule that celebrates the iconic helmet that made the history of the company, a symbol of the brand's tradition and evolution.
It's a symbol of urban style on two wheels, inspired by helicopter helmets, and it has become a phenomenon of costume, a trait d'union between Momodesign's past and its present: a restyling of the first four iconic colors that enhances the originality of the its design enriching it with a graphic with the inscription Heritage 20 that narrates a contemporary story.
Silver and black, blue and racing yellow are the colors that have made history, the first two have stitched edges in tan leather, while the others have black edges with contrasting stitching.
It's offered in strong colors, just like the personality of this helmet, with the graphics of the logo and of the 20 colored in yellow and black, depending on the color of the shell, the screw of the visor characterized by the logo, made of brushed steel; the visor support created in laser-cut carbon fiber, while the cheek pads have a more aerodynamic design, completing the overall design, reflecting the strong link between the brand, craftsmanship, attention to detail and innovation.
20 years have passed but the FGTR is still at the top, so many people have talked about it, that it still stands out in metropolises all over the world today.
FGTR HERITAGE 20, a helmet that celebrates history and looks at the future.
The outer shell is made in ABS and it's available in two different sizes.
The cheek pads are removable, the internal padding has been made with a highly absorbent fabric and micro-perforated mesh to increase comfort and hygiene.
Available sizes: XXS 54cm - XS 55cm - S 56 - M 57cm - ML 58-59cm - L 60cm - XL 61cm
Retail price: 199.00 euro.
ask MOMODESIGN
Discuss on Discord