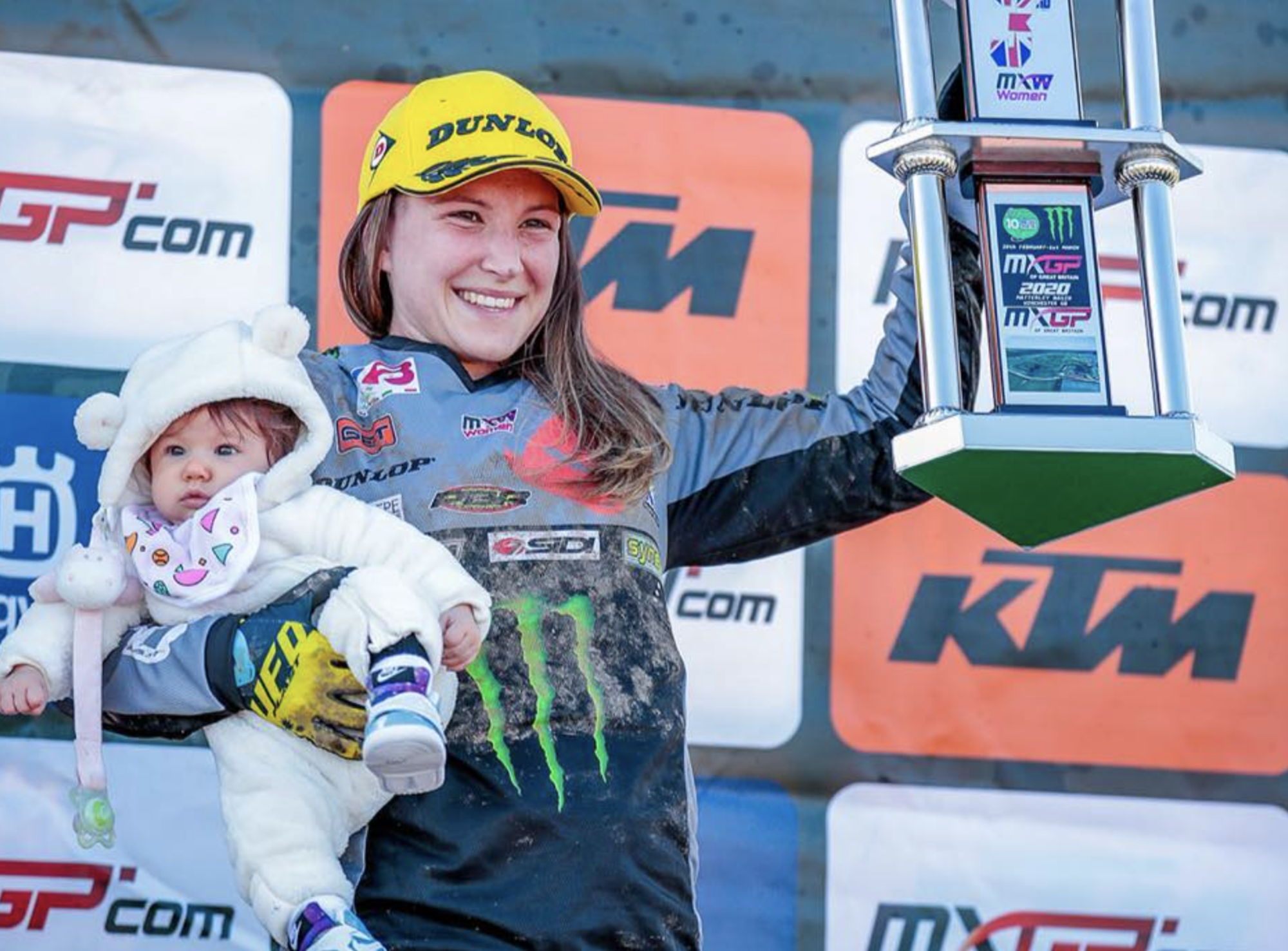 Pink Lane with Kiara Fontanesi
After closing the 2020 season with many podiums finishes and a 4th final standing, the rider and mother opens up with Cristina Bacchetti
11/10/2020 06:00 PM

11/10/2020 06:00 PM

Europe/Rome

Pink Lane with Kiara Fontanesi

https://motofestival.moto.it
The appointments with Cristina Bacchetti's Pink Lane for the MY2021 MotoFestival start strong: at our microphones there's Kiara Fontanesi, 6 times champion of the WMX world championship and mother of the little Skyler had by her partner Devin Parenti, three-time world champion of Kick Boxing. Kiara talks about the season just ended with a 4th place finish and the challenges she will face in the future. Here is an excerpt from the interview.

You have reinvented yourself too, you have become a bit of an influencer!

"Well, I really like what you did, also because it is the second EICMA in a row that I skip. Last year because I was in term (with the pregnancy, ed.) And this year because unfortunately there is Covid. It's nice to do something anyway. I like Instagram, it's nice to work here too, that's how it works in 2020 and Instagram is mainly for this ... brands are interested in my profile and it's good, but I'll never become an Influencer completely " .

All moms want to know how to get back in shape like you!

"I am one of the very few mothers who is back in better shape than before ... but I am also a bit of a separate case, before I got pregnant I had serious problems and for me it was a good medicine. Less than before the pregnancy! "

What about the strangest advice moms ask you?

"Well, the first thing is ... wow how did you do it? I always answer that I am nobody to be able to tell people what to do, then one must also think about the level from which to start. I was super trained, and despite having scaled everything I continued to work ... but it was really helpful to keep exercising. " Then as she grew up they asked me about infant formula, shoes… I made a post for Mellin and open up heaven. What I want to say is that everyone has their own way of life! Do you think that they also told me that I prepare powdered milk in a non-sterile place… but I don't live in a hyperbaric chamber, I run in motocross!"

And how do you take criticism from mother to mother?

"Well, I often answer. But because of my character I get on fire, so sometimes I have to lose. There is always a great fury towards the others, but it would be nice if we gave each other a hand between mothers without hatred. I think everyone must do what feels best, but I do not let myself be disheartened, but there are those who are happy with advice and those who take it as a way to launch an argument.
But are you putting your daughter Skyler on a motorcycle?

"Unfortunately at the moment one of the things he constantly has in his head is a motorcycle ... it's all a" brum, brum ". Ever since he sees the keys to the car, to the tractor, to the motorcycle ... It's not that I'm trying to avoid putting it in motion, but I'd like him to do more! "

A few days ago you made a very important announcement… do you want to do it here too?

"Oh yes, do you see that I'm all in red? I switched to GasGas and I was no longer in the skin, I wanted to say. I could also finish the world championship with them, but I wanted to do things all the way. I'm happy with the project we have together We will also be GasGas dealers in the family, and they have given us incredible confidence ... I realized that there are many people who respect us and believe in us. I realized in the end that maybe it was right to change my life, my career and everything else for a solid future. Also because with our school we have the possibility of letting the children leave immediately, because they also have an electric reason ... we are at the Parma Est exit: we will be at Parma, Reggio and up to Piacenza ".

How do you see the future of motorsport with Covid?

"I believe (and I hope) that it cannot be worse this year. I believe there is no uncertainty as to whether or not the world championship will take place. It is not an easy situation for many, very many. You know, my dad had a company that closed during the lockdown but luckily he managed to recover. If you used to get up in the morning and had a plan about what you were going to do, now that's not the case ... it's not easy. I consider myself lucky because we are all well, even economically. But there are people who are unable to eat and it seems that those in charge do not feel right from this point of view. "
At the end of September we saw you very angry at the end of the race… can you tell us about it?

"What time? I often get angry, you know, both in Italian and in the world championship. If we want to start from Mantua, I would say that after 11-12 years of world championship I think I know the yellow flags regulation well. I have also reread all the regulations. I did a double instead of a triple, I just slowed down a little. I was relegated two places, the appeal was accepted but rejected because there is a part of the regulation that says that what the commissioner said is law. I had to accept this, but it hurts me because I didn't do anything. I tried to give myself an explanation and I accepted it as it is".

(then Skyler falls off the table ...)

Have you ever thought about trying speed?

"I tried it once, I did a apprenticeship of MotoEstate but I never really thought about it. I don't like it enough, and then there is no category dedicated to women and it would be difficult now to decide at my age."

Towards the end of the interview, Cristina launches the readers' questions, from friendship with Tony Cairoli to the "secrets" of his success, also talking about the transition from Yamaha to KTM to get to GasGas. Find all Kiara's answers in the full video available on-demand on MotoFestival and on our social channels, in the meantime Pink Lane continues.
Comments
Discuss on Discord